Faculty and students from the School of Education and SUNY Old Westbury recently visited Uniondale High School in a "takeover" of sophomores' and seniors' classes to discuss the possibilities of education and teaching as a career and the experiences available from attending college.
Led by the School of Education and the Teacher Opportunity Corps (TOC) Program, the event featured a panel with faculty from the College's schools of Education, Business, and Arts and Sciences, sharing stories about their career pathways, and the benefits of being an Old Westbury student. A highlight of the "takeover" was a discussion on the future teacher workforce, and how the students of Uniondale can help diversify that pipeline.
"The teacher education pipeline needs more qualified, diverse candidates to help educate the students of tomorrow," said Dr. Diana Sukhram, dean of the School of Education,. "We want Old Westbury to be top of mind for all local students who want to pursue a career in education because of our rigorous programs, diversity, and our passion for teaching and learning. I am so thankful for all the faculty and students who joined our 'takeover' to showcase Old Westbury to Uniondale High School students, so they can see all that we have to offer, the quality of our faculty and courses, and the pride and joy we have for the institution."
Windie Auguste, a teacher at Uniondale High School who graduated from SUNY Old Westbury in 2005 with a degree in Multicultural Literature commented: "I hope the students choose to be teachers because we have great teachers here and there are great teachers at Old Westbury. I hope we get a lot of students who apply there and become teachers. I really enjoyed my time there with professors like Margaret Torrell, she really helped me a lot. The professors made me feel like home there."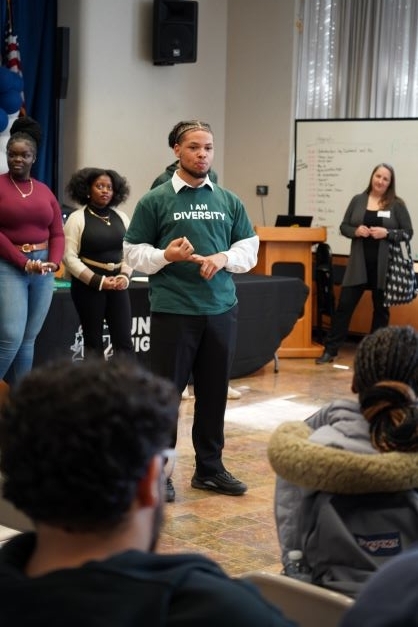 Antoine Brewster, a graduate of Uniondale High School, recently started at SUNY Old Westbury as a Childhood Education major. He discussed with his alma mater that, although Old Westbury was not on his initial list of colleges, his guidance counselor recommended it, and it changed his life. "Being a member of the Educational Opportunity Program really helped adjust me to the flow of college. Old Westbury has everything that students want out of college, and I would put Old Westbury at the top of my list if I were in high school considering my future. I am glad to be here."
Old Westbury students also gave advice about student and athletics programs, life at the college, involvement in clubs, living on campus as well as commuting to the campus and answered questions the Uniondale students had regarding the college during the "takeover". All the Right Moves Dance troupe and Uniondale High School Alumna Kaylah Paczkowski gave performances to highlight the different campus groups to the high school students.
About the day's events, Dr. Monique Darrisaw-Akil, Superintendent of Schools for Uniondale UFSD noted, "The presentations were awesome, as was the student response. Thank you for providing our students with an immersive experience!"